Dellmon
All's fair in love, war, and broker pricing…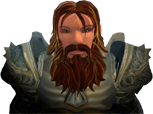 The dwarf, the myth, the legend. Dellmon, the son of poor Norrathian immigrants, fought his way up from the Isle of Refuge to become a sub-mediocre Templar on the Unrest server. Usually relegated to Group Five during raids, he still to this day believes that Sanctuary needs to be cast on every pull. Grouping with him is dangerous as he has no qualms over agro while trying to grab that last shiny.  He is most seen hunting for rare quest starters and making tradeskilled weapons. In real life Dellmon can ride a bike without training wheels and considers onions and string beans to be is mortal enemy. His favorite color is green and his favorite word is behoove. He suffers from hayfever and bouts of dizzying sneezing fits. And he did actually weep openly during the movie Steel Magnolias. Someday he hopes to live under the sea in a pineapple with his mermaid wife.
Aliscious
Breaking hearts and mezzes since November 2004…

Aliscious is a wood elf ranger/carpenter on the Unrest server, where she enjoys questing, grouping and light raiding. She has never deleted a quest from her journal, and is hell-bent on disproving the notion that girls do 25% less DPS. If you ask her how to get somewhere she will be happy to tell you. But be forewarned, despite being a scout, she often gets lost in her own home in Qeynos. A long-time member of the Fu'oftheWu Clan, Aliscious is thankful for her good friends and guildmates. She credits EQ2 with curing her eBay addiction, thereby saving her from being buried alive by decorative birdhouses. For this she is eternally grateful.